I love my boys. Truly and honestly I do. How can you not love this face?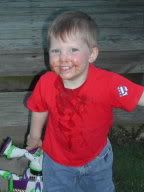 But I keep hearing about all these babies being born (another friend just had another baby...her second. She know has a boy and a girl) and it makes me sad to think I'm not having another one. And that I'll never have a daughter. But at the same time, I'm so glad to be blessed with the two miracles that we have now and at the same time a little relieved that I don't have to deal with the infant stage and waking up every 2 hours anymore, etc, etc. We are just getting to a point where Zachary and Lucas are able to play together and be somewhat sufficient and get a few minutes of peace to ourselves. And I LOVE that!!! But at the same time, it makes me sad. I guess I'm thinking about it more because all my friends seem to be getting preggo and having babies and that my "baby" is about to turn 2 in exactly a week. Where the heck does time go?
Lucas got his head stuck in the fence at daycare last week. Apparently a ball went through the fence, he tried to go after it and he stuck his head through and then couldn't get it out. One of the daycare workers jumped the fence and they ended up pulling his body through in order to get him out *LOL* Ah, the joys of boys!!! They said that I'll have my hands full when he gets a little older....I told them, he's my "easy" child. Zachary was WAY worse than Lucas is as far as getting into (and most of the time, out of) getting in trouble. I don't know whether it's the fact that they are boys, or that they are MY boys, or what...some people say we probably don't discipline enough. But, sometimes I think we are too harsh (and my mom agrees with me). But, boy oh boy they can get into some stuff. I think it's just because they are explorers and puzzle solvers and I don't squash that and their independence. All that will serve them very well later in life...it just makes it very frustrating right now!
We've been spending a ton of time outside since it's been sooo beautiful and it's been so good for everyone! There is kids behind us now and Nathan and Alaina have been coming over almost every night (with their parent's permission of course) so the boys have playmates too. I went and got my hair chopped off and permed on Saturday and when I came home the boys weren't in the house. Chuck said they are out back.
So I went out back and didn't see them.
I called their names....no answer.
Panic sets in....
My neighbor tells me that she saw the boys go over the fence but Daddy knew about it first.
So I talk to Chuck again. Apparently the boys were invited to go on a walk with the back neighbors. I don't know why (as the mom is one of Lucas' daycare teachers) but I was so nervous. I couldn't relax. I didn't know when the would be back and what would happen IF something happened? I guess I should get used to that feeling as the boys get older and go off more and more with friends.