My dad and I have been through a lot together. A lot of heart ache, a lot of stubborn fights, but a lot of joy too.
He was there in the room with me right after I had my first son. Right by my side. He made it home from Oregon with my brother just in time....and knowing my dad drove through the night in order to be there for me.
My dad taught me to be a strong fighter for what I think is right. To stand up for my beliefs. He didn't much like it when I stood up to him though :)
He stood beside me and helped me with my boys when things were rough in my life last fall.
Dad taught me to check my tires and my oil and to drive a stick shift...so that I didn't need to be dependent on a man to do it for me.
And way back when, Dad stood over me and helped me learn to write cursive the year before we learned it in school...and helped me read chapter books. He encouraged that love of learning in me.
I still remember those things. I can never thank you enough for the things you DID do Dad.
I found this picture of me, wearing Dad's shoes. I think I was a bit of a Daddy's girl when I was this little...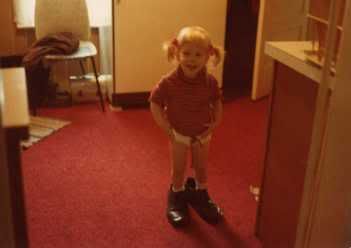 I wanted this song as our "Father-Daughter" dance at our wedding. I ended up allowing Dad to make the song decision...but on my Dad's birthday, I'd like to send out this tribute.
I remember daddy's hands
folded silently in prayer.
And reachin' out to hold me,
when I had a nightmare.
You could read quite a story
in the callous' and lines.
Years of work and worry
had left their mark behind.

I remember daddy's hands
how they held my mama tight.
And patted my back
for something done right.
There are things that I'd forgotten
that I loved about the man.
But I'll always remember
the love in daddy's hands.

Daddy's hands were soft and kind
when I was cryin'.
Daddy's hands were hard as steel
when I'd done wrong.
Daddy's hands weren't always gentle
but I've come to understand.
There was always love in daddy's hands.

I remember daddy's hands
workin' 'til they bled.
Sacrificed unselfishly
just to keep us all fed.
If I could do things over,
I'd live my life again.
And never take for granted
the love in daddy's hands.
~ By Holly Dunn ~