Today is not only the anniversary of September 11 and the terrorist attacks on US soil, but also your 4 month birthday. It's a day that I personally thank the Lord that I have you, and your brothers, after so many people lost their lives. And I thank God for all that we have as a family.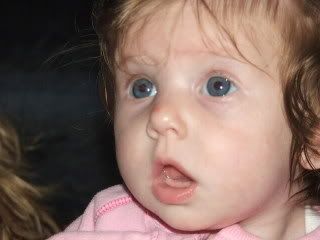 Why do I thank God for you? You are a special little girl. Your smiles (and there are plenty of them) warm my heart. Your giggles (and there are quite a few of those too) make me laugh in delight. I relish our one on one talks already and you can't even talk properly yet; I can't wait to have those one on one talks with you like I do with my mother. And yet I will wait. Because I don't want to see you grow up too fast- I don't want to wish my time away with you as a baby, a toddler, a preschooler, a school-ager.
I see you every day and I get so much joy out of all the things that you do. Well, almost. I'm not too fond of the screaming bloody murder until your face is beet red and your eyes and veins are popping out of your head because you are hungry; nor am I liking your nasty poops, but I guess the bads come with the goods.
This last 2 months you have changed from an infant into a little person. You have your own personality, your own style and it's so fun to watch all that develop. You have already been rolling over for a good 2 months now and no one would believe me when I pronounced that you were doing that already...until they saw it with their own eyes. I know it won't be too much longer and you'll be crawling, pulling up and then walking. And then I think we'll need to watch out!
I think that by seeing you day in and day out, I don't see exactly how much you have grown and changed. After stopping by and seeing Maizie today at 3 weeks old and knowing you were born close to that size, I can see what a little girl you have become. You look like a little person compared to your birth pictures and especially side by side with Maizie. It makes me sad to think that some of that is passing me right by without noticing...so I guess I'll work on noticing a bit more.
The dr. yesterday was not concerned at all with your petite features. At 26 inches and 11 lbs, 7 oz you are one petitite little girl. 80th percentile for height but only 10% for weight...at least you are still on the same growth curve so no one is worried.
A friend told me that my prayers were answered...I wanted my daughter to be beautiful, well-proportioned and not have the "chubby" factor and have to deal with that as a woman. For that I am thankful and I pray that it stays that way.
I love you E. And I'm excited to see all that there is in store for us over the next day, weeks, months and years.