I feel like my life slips away from me sometimes. I tell the kids "sure, we can fly a kite...maybe tomorrow." And then tomorrow, it rains or something else happens whether it be a sick kid, a bad day with Zachary, forgetfulness from momma and we end up not doing it. It's like our life is full of "tomorrow's".
I think some of that is the curse of essentially being a single parent for the week. With Chuck and I working opposite shifts, it's just not as easy to get dinner done AND play with the kids. There is no one else there to do it, so either you get the chores done OR you play. And sometimes I just feel so overwhelmed with everything, I don't know where to start, what to do, so I do nothing.
I've been really examining my life over the last week. I've been offered something that will take up my time at home, but in the long run, may help our home situation. I am totally intrigued because it would be something for me...I'd be using my brain. Challenging myself again. Something I don't get at my work.
But, I've been concerned about the time it will take away from my family. Even if only for a year that times would be rough, I don't want to look back and think that I lost a year of time with my kids. Enjoying my kids. Playing with my kids.
So, I've decided that in order to do things, I need to
schedule
things. I have a Franklin Covey planner which I used to use religiously, BC (before children), but haven't since because I didn't feel I
needed
it. Well, I think I was wrong. I let time get away from me too often thinking "well, I have all afternoon for that" when in truth I don't. I have a billion things that need to be done and by letting things slip away, I get furthur behind and don't make that time for myself.
So, I've decided I need to start scheduling things. Not just for me, but for the kids too. So I don't forget that I promised them that I'd play Chutes and Ladders tomorrow morning or fly a kite over the weekend. But, also, so I can start to fit in my exercise, eating right, newly acquired non-profit work, work, time with Chuck, taking the kids to the park. and chores. Whew. It's going to be a very full Franklin Covey. Obviously, its going to be very fluid as there will always be unexpecteds (isn't there ALWAYS unexpecteds with kids?!) but I'm hoping it will help me become more organized and find a way to fit everything and everyone I love in. Without becoming a raging bitch.
So, in the spirit of my newly worked out ways of organization, we had a great weekend. My house is somewhat picked up (NOT in any way perfect, mind you...there is lots of clutter spots that need to be taken care of) and we enjoyed some "firsts" with the kids.
On Saturday, we traveled to visit a friend and try out the boys' rocket that they got for Christmas. We went to a park and Elizabeth got to try out her very first swing! She very much enjoyed it. I love hearing her laugh.
And for the record, the rocket was extremely anti-climatic. 6 inches isn't enough to satisfy anyone.
This evening, the boys wanted to try out there new kites that they got for Easter. They have gotten numerous kites before, but we've never
made the time
to fly them. So, we made the time tonight. Unfortunately, I was at home with Elizabeth making dinner, but they boys had a great time. Zachary was very excited to have gotten his kite up all by himself!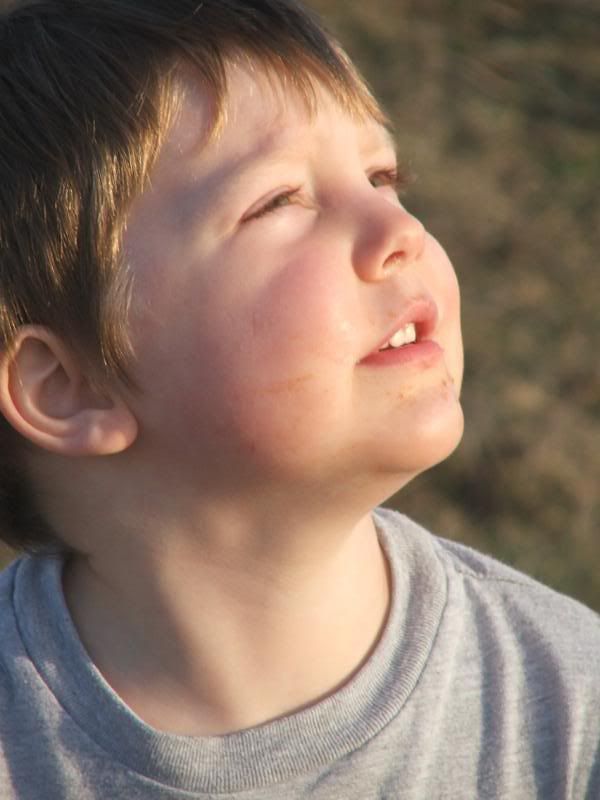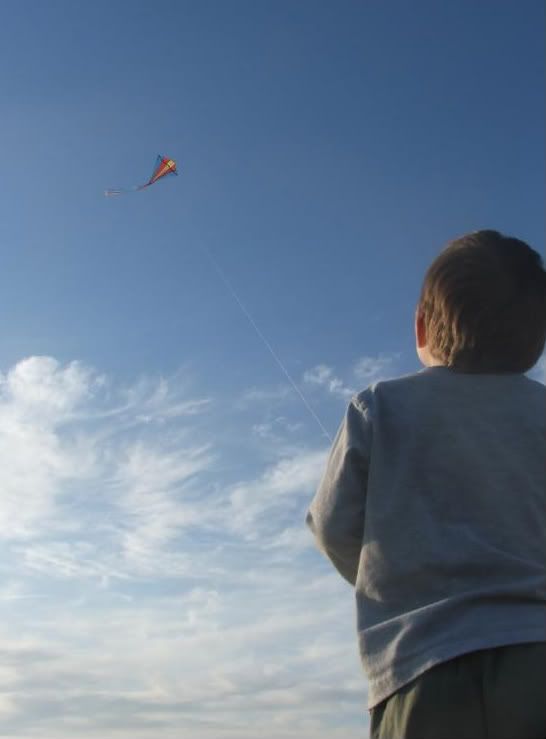 And just one more picture, just because. Because he supports me and gives me the opportunity to do something for myself. Because I love him with everything I have.