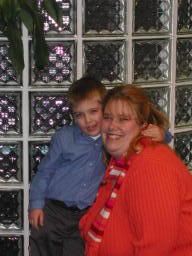 Zachary and I went to a Mother/Son dance through our local parks and rec. last Thursday night. We had such an amazing time! First, it was wonderful being able to spend some one-on-one time with Zachary and be able to focus on him alone. I know he's been needing someof that! Second, it was totally his night! We got dressed up and went to the really nice hotel where they were having it. When we walked in the main doors, there is a huge water feature and two glass elevators. Zachary just stopped dead in his tracks and his eyes were as big as saucers. He said "Momma, can we ride
those
???" So,off we went to check in and get our complimentary picture taken and then back to ride the elevators. We ended up running into another mom/son combo that we go to church with and Zachary and Johnny are friends so we rode the elevator about 10 times with them! The boys thought it was so great being able to go all the way up and still see the water down below.
Zachary and I danced to a couple of slow songs but mostly fast stuff and he was definitely busting a move!!! It was so cute watching him. He got to eat
FOUR
cookies...which is a very rare treat for him and seemingly one of the highlights of his night.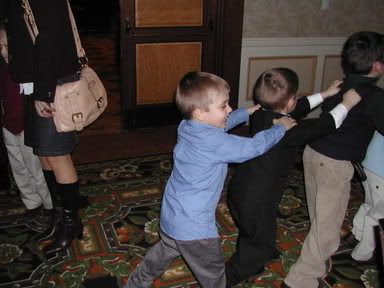 They played the locomotion at one point during the night and all the boys (and a few moms) got together and pull off a train that circled almost the whole banquet room. I stood there and watched him do this and seriously almost started crying. I can't believe how big my little boy has gotten...and it felt like just a small step till I see him doing that at his wedding in full tux with his new bride all in white. *sigh* They do grow up so fast so I'm so glad that he can look back on his mother/son dance (I plan to make this a yearly event) and have good memories of time with his mom.