In honor of our anniversary, which is today, and the fact we made it 5 years now and grown our family by 2.3 children, I thought I would regale you all in how I met my hubby...and how we became husband and wife.
How it all began: In the year of 1997, I decided that there was no way that I could return to my parents house for the summer after living by myself and on my own for the year at Michigan State University. So I attended a job fair, thinking I'd get myself a really cool job, make lots of money and live on my own. Well, some of that was true. What I found was a YMCA Camp close to my hometown and parents but where I could work, make money and LIVE for free. I visited the camp in May for a weekend to start running trail rides, as I was hired for a ranch counselor. Pretty fitting, considering my degree is in Equine Management. The first person I was introduced to was Chuck. I ate lunch with the staff and he was loud, rambunctious and funny. Oh, and did I mention perverted? That's when I thought..."cool, I'm gonna fit in here". We talked some more over a bummed cigarette with Charlie the horse down at the ranch and he seemed super cool.
Then we had staff training. He was obnoxious, conceited and annoying. I remember thinking "dude, just shut up. No one wants to hear you ramble." But he was one of 3 original smokers on camp. I was one of the other ones, and Jason (coincidentally the best man in our wedding) was the third. I got to know Chuck pretty well and my original thought of him came back.
However, I was not romantically interested in him in the least. I wanted CJ. The young Irishman who was an exchange counselor. *sigh* Apparently he spent a lot of time talking to Chuck about me, and Chuck told him to just make the move. CJ never did...and although Chuck informed me I should...I never did either. CJ ended up hooked up with the black widow.
CJ, Chuck, Matt and Jason....the original crew. Men who changed my life.
Then comes my 4th of July party, 1997. At my parents house. My first *real* party ever. And we had a few friends spending the night, some because they were too trashed, some for convenience. Chuck was one of them. Everybody had a bed but him. We were good friends. I offered him to sleep with me. He had other things in mind. Don't worry...I didn't give it up to him. I cried. Sobbed really because I was still a virgin. Chuck quieted me and held me and told me it was all ok and nothing would happen if I didn't want it to. Then we went to sleep...and he was still there in the morning. Waking me up with kisses.
After that we were kinda inseperable. He had his own room at camp, instead of sleeping with the kids, like I did. I spent A LOT of time there...hanging out, smoking, talking, making out. About one week after our initial "hook-up", I had a LONG week. It was the 2 week campers and we were with them non-stop...no breaks at all. I came back from the barn at about 9:30 pm one night and in the middle of our cabin was a dozen beautiful roses in a vase and a 3 wick blueberry candle (now my absolute favorite scent) burning. The girls of course were all abuzz about who it was for....it's so romantic you know! I started to cry and let my other counselor know I needed to run for a minute. I went and found Chuck with tears running down my cheeks. He informed me that he had already talked to Matt (who was my supervisor) and had gotten me some time off so that we could have an appropriate first date. He had it all set up.
We went to Don Pablos and a movie matinee (as I had to be back to camp after dinner). It was wonderful! For some reason, I was sooo nervous during that date. We'd been friends for some time, and we'd been making out, but this was so official. We learned a lot about each other during that date...like he learned that I was not yet 21!!! He seemed VERY nervous when I couldn't drink alcohol. I think he was concerned I wasn't of legal age yet (18, here in the States). Especially since he was 28!
Fast forward 8 months: We moved in together so I could finish my last year at MSU and he began school at the local college.
Fast forward 2 years: He proposed. May 20, 2000.
Fast forward 1 1/2 years: We were married. October 27, 2001. It was beautiful!! It rained a light mist during the ceremony but was nice after that. It was such a busy day but all so worth it when I saw him looking at me with such loving and endearing eyes as I walked down the aisle. I loved that man so much and here were all our friends and family watching us commit ourselves entirely to each other.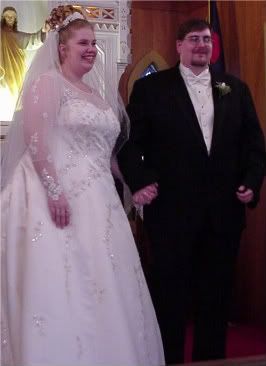 We were married in a VERY small historical chapel in a local park. It really did look like something from Little House on the Prarie. It was perfect for us and afterwards we had our pictures taken at the park and on the playground. I've been told by several different people that we had the most loving, caring and beautiful wedding they'd ever seen. We danced our first dance as husband and wife to "When you say it best, you say nothing at all" by Allison Krause and it fit us to a T. I have so many wonderful memories of that day but the one that sticks out the most is happiness!
We took our honeymoon in London 9 weeks after the wedding. We left right after Christmas and then enjoyed ringing in the New Year in London. It was fabulous! I cannot wait to go back again and share more rich culture with my husband. I guess that's what I love about him...our ability to balance each other. He's introduced me to museums and art galleries and fine dining and I introduced him to the Royal Mews (which was closed while we were there *poo*) and clubs and just strolling through the park. Even today we balance each other....when he seems to be down, I'm up and when I'm down, he brings me up. I love him for that. I love him for what he does to me. I love him for how he makes me a better person. Now, that's not to say that we don't have our struggles and our fights, but I think overall we are a pretty happy, balanced, and loving couple. 5 years of marriage later...don't you think we still look happy?