So, I was going through my photobucket today looking for something. I found some old pics of me I scanned in and thought I'd share.


Here I am at about 3. I was wearing my daddy's shoes. I think I may have posted this one before.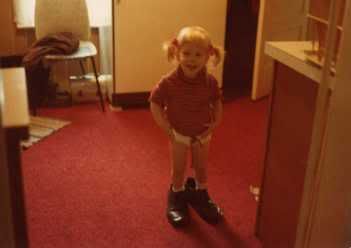 This was my 3rd or 4th year of dance. So I was about 5 or 6. Zachary's age. I see a lot of me in him.
Age 11. This is just a year and half before I sold Bar, my quarter horse.
Age 15. Chuck loves this picture of me. He might have it on his desk actually. It was a promo shot for some of my rabbit competitions.
Age 17. Coming Home dance. It should have been called coming out dance since those two guys were having sex with each other. Ah, the memories.
Age 22. Graduation from MSU with a bachelors of science in College of Agriculture and Natural Resources. Major in Animal Science.
Age 24. My wedding day. I love this pic of me. Sorry for it's grainy quality...it was taken with a 1 mpx camera. Sign of the times, I guess.
Age 24. Honeymoon in London. I was 5 1/2 months pregnant here. We waited until Christmas time to go on our honeymoon. We spent New Years Eve in London. Too bad I was preggo :(

And that comes up to almost today :)